Nangli Sahib
Article written by Ron Geaves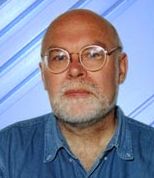 Recently I was in India engaged in some research for my university. It also happened that Maharaji was in Delhi and I was looking forward to the possibility that I might have a chance to meet my master and enjoy a moment of his company.
While in Delhi I took the opportunity to visit the shrine set up to mark the place where Sri Swarupanandji Maharaj passed the last few weeks of his life. I knew that Sri Swarupanandji was the master of Sri Hans Ji Maharaj and I hoped to find out more about the history of my own master's lineage.
At the shrine, known as Nangli Sahib, I was received with Indian courtesy and hospitality and introduced to Vibhuti, a very bright girl who was to be my translator and guide. I had hoped to find out more about Sri Swarupanandji Maharaj but I did not expect to find myself face to face with an extremely old mahatma who had actually spent time with Sri Maharaj Ji's master. Mahatma Akhand Yoganandji was extremely frail and completely blind, perhaps to be expected of a man who had achieved the magnificent age of 101. However, his mind was as clear as a bell and he chuckled joyfully as he was introduced to me. He spoke to me of his days travelling around India giving people the techniques of Knowledge in the 1920s and 1930s and his own sadness when his master died in 1936.
Akhand Yoganandji held my hand and seemed to be using his sense of touch to feel me out. I, in turn, could only feel respect and deep affection for this very old man who had in his own time served and loved a living master. After some moments he announced that he liked me and would answer any question that I might have. Almost holding my breath in anticipation, I asked him if he had known Sri Hans Ji Maharaj. He became very excited and his hand gripped mine even tighter. He spoke to Vibhuti in Hindi and I awaited the translation. Vibhuti turned to me and said: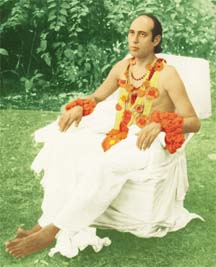 'Mahatmaji says that Sri Hans Ji Maharaj was my friend.
Later he had four sons. The youngest was Balyogeshwar (The name by which Maharaji was known for many years).
We travelled together for nearly four years spreading the Knowledge of Sri Guru Maharaji (Swarupanandji Maharaj).
Sri Hans Ji Maharaj was a beloved sant (mahatma) of Sri Guru Maharaji.
Sri Hans Ji Maharaj loved Sri Swarupanandji very much and Sri Guru Maharaji loved Sri Hans Ji Maharaj very much.
Sri Swarupanandji Maharaj loved all his sants very much but I think that he loved Sri Hans Ji Maharaj more than all of us.'
I felt that this was a very special moment and on return to Delhi I communicated this information on a visit to the Delhi Knowledge centre. It was decided that I would return to Nangli Sahib accompanied by a cameraman so that a more in-depth interview could take place to record Akhand Yoganand's memories for posterity.
On my arrival back at the shrine, Vibhuti greeted me with the words, 'Mahatmaji has gone. He has passed away.'
I was deeply shocked as I had loved this old man even if only for the brief moment we had spent together. It turned out that his conversation with me had been his last. That night he had fallen ill, briefly slept and on awaking had sat upright. After two breaths he passed away peacefully.
I regretted not passing more time with him.
I learned many things from my brief meeting with Mahatma Akhand Yoganandji but these three strike me as the most important: first, I should always be ready for life to surprise me; second, I should pay more attention to Sri Maharaji's maxim: 'Do not put off until tomorrow what you can do today.' There are some things in life you never get a second shot at; but lastly and most importantly, the meeting with this old mahatma made me realise even more profoundly the significance of the relationship between the living master and the living student. I have become more aware of how fortunate I am.
Akhand Yoganand's favourite song (bhajan) that he used to sing daily is printed below: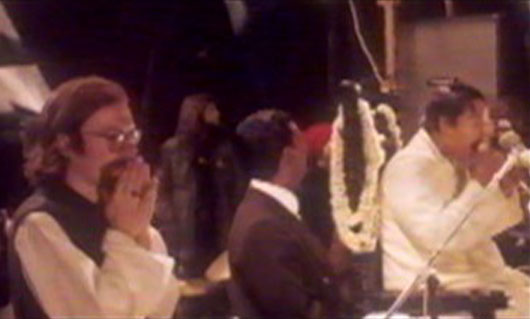 O mind, count the rosary of breath
It is self-repeated.
Do not forget the breath
Even when walking, standing or seated.
This intimate remembrance lies deep within
And does not need a tongue.
Like a flower growing between walls
The heart lotus turns
And grows straight towards the seat
Of the living supreme power.
Then all my impurities are washed away.
This is the secret that my master revealed to me.

The cage is lying empty in the corner
Whilst its occupant flies free.
This gift was given to you,
A parrot without wings..